We celebrated Jacob's birthday last Saturday, and we could not have asked for a more perfect day. The weather was gorgeous and, despite it being a pool party, not many kids went swimming. I'm kind of glad 'cause it would have been crazy. We had our signature taco guy, and the food was good, too bad I didn't get to enjoy it. And the cake was not only cute, but delish. Unfortunately, with all of the running around, I didn't get to enjoy the party at all. But I know Jacob did and that's all that matters. The theme of his party was mod monkey, and I got tons of compliments on the party decor, goody bags, and cake. I had adults asking for goody bags and table centerpieces! A lot of time and thought went into this party and many thanks to my lovely family for helping me through the last couple of weeks. And here are the pix...
Need more party inspiration? Check out my party blog!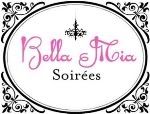 The invite I made...
Diggin' into his smash cake...
About to take a whack at the pinata...
Centerpieces...
Decor...
Photo timeline from birth to 1 year...
Only game we had time for, pin the nose on the monkey...
Goody bags included a monkey tote, notepad, pencil, key chain, bubbles, sticky hand, fun straw, banana key ring, banana candy, Laffy Taffy, Skittles, and Starburst...