So, I had a doctor's appointment again this morning, and baby boy and momma still look good. However, during my ultrasound I almost fainted. The nurse had me on my back too long and it was making me sick. Luckily, I didn't faint. Oh and baby is breech, again! After the ultrasound, I headed down to L&D and was hooked up for the non-stress test. Baby was moving and perfectly healthy, my BP was taken and was perfectly normal. Great news, right? Well, one of my doctor's (whom I do not care for) came to check me and baby out, and he orders me to bed rest. Bed rest! If everything's perfectly normal, why do I need bed rest?! Oh, but I do have bathroom privileges. I'm not a happy camper.
~~~~~~~~~~~~~~~~~~~~~~~~~~~~~~~~~
After my doctor's appointment I went to get a mani and pedi. It was great! I love having my arms and legs massaged, but the girl did a crappy job on my finger nails. But my fingers and toes are now painted Baby's Breath by Essie: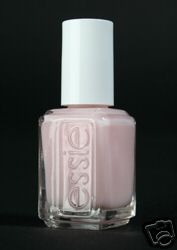 ~~~~~~~~~~~~~~~~~~~~~~~~~~~~~~~~~
Tomorrow's the big day! My baby shower! I'm super duper excited! I don't know if I'll sleep much tonight. I'm looking forward to all the presents and seeing everyone share in the day. Pics will be up next week!