I know the wedding was a week ago, but I still can't get over it! When I first heard about the Royal Wedding, I thought it was going to be a cold, stuffy, and boring event...much like the marriage between Prince Charles and Diana. However, a week before the wedding, I just happened to catch the Will & Kate movie on Lifetime, and I was intrigued. They seemed to have a genuine love for each other. He seemed so protective of her and still is, and I love that Prince William has done everything on his own timeline, and he married a commoner!
The wedding was perfect. Not too stuffy, and you could see their emotions. It took me back to my own wedding. Kate looked beautiful in her McQueen dress. Just radiant! I
loved
her dress, and her reception dress was perfect! And Will was so handsome in his uniform. Yum! And the things they were whispering to each other was sooo touching! And I know I'm not the only one who wants a Harry/Pippa hook-up. Hello! How awesome would it be that two sisters, commoners, marry two prince brothers?! It would be very cool. Lastly, I can relive my childhood fantasies with a Kate Middleton Royal Wedding Portrait Doll. It's true. You can find it
here
.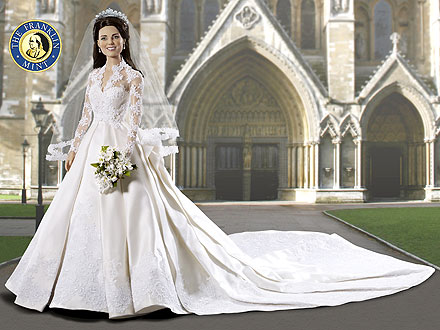 Photos: Google